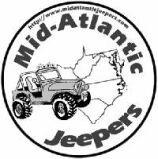 | | | |
| --- | --- | --- |
| | We thank and support our troops and pray for their safe return! | |
---
The April meeting will be at Cory & Cindy's house. Details coming soon...
---
Visit the NEW Mid-Atlantic Jeepers goodies shop! Order hats, shirts, teddy bears, etc. Yes, you can even order a Mid-Atlantic Jeepers thong there!
---
Here's Sammy's writeup about our February Shoe Creek trip. It turned out to be an interesting trip.
---
Our 2004 Events calendar is posted!
You can also check our new Yahoo! calendar here. You must be signed in to Yahoo to view it.
---
Congratulations to our 2004 Officers and Board of Directors.
---
We got a few pictures of our 2003 Annual Toys for Tots run.
---
Our 3rd "almost-annual" Jeep Show was a great success and a lot of fun. You can see some pictures here.
---
Pictures from the March 15, 2003 Shoe Creek Run are here.
---
We are a group of Jeep enthusiasts sharing our interests, knowledge and love of the outdoors.
Our center of operations - such as it is - is in central Virginia - the Richmond/Tri-Cities area although we welcome Jeepers from all over.
So, crawl around the website a while and let us know what you think!